QUICK LINKS:
New Massachusetts travel order comes with $500 per day fine for noncompliance
July 24, 2020 | Starting next month, visitors to Massachusetts and residents reentering the state from most states will be subject to a new travel order and the threat of $500 per day fines for noncompliance.
Reopening: MANDATORY SAFETY STANDARDS FOR WORKPLACES
These new standards will apply universally to all workplaces that are open in Phase 1, and are designed to reduce the risk of COVID-19 transmission to employees and customers.
May 7, 2020 | The City of Boston has issued a memo detailing the parameters that allow construction to reopen in the city as early as May 18th.
Tufts Medical Center COVID-19 Testing
Tufts Medical Center has partnered with the City of Boston and Boston Public Schools to open a COVID-19 screening site at the Josiah Quincy School, 885 Washington Street, Boston. The screening site is available to patients of Tufts Medical Center, health care workers, first responders, essential city personnel and residents of the greater Chinatown community who are concerned they may have COVID-19, regardless of symptoms.
AGC MA COVID-19 Safety Resource Page
Click here to access the AGC MA COVID-19 Safety Response Plan plus additional safety related information and resources.
The Massachusetts Attorney General's Fair Labor Division has issued "Frequently Asked Questions About COVID-19: Employee Rights and Employer Obligations", which address layoffs and furloughs, unemployment benefits, earned sick time and recently-enacted federal legislation including the FFCRA and the CARES Act.
AGC MA COVID-19 SAFETY RESPONSE PLAN
The AGC MA COVID-19 Safety Response is a guideline providing best practices based on the current information available but are subject to change as more information is received from the CDC and OSHA. Be sure to keep checking back for the most recent information!
ESSENTIAL SERVICE DESIGNATION REQUEST
If the function of your business is NOT listed in the COVID-19 Essential Services, but you believe that it is essential or it is an entity providing essential services or functions, you can submit an online request using the Essential Service Designation Request Form to be designated as essential for the purposes of the Emergency Order.
LATEST NEWS 
Click here to access the latest state and city announcements including Governor Bakers list of essential services that are exempt from closure and the latest information on the DOL Paid Leave Guidance on Families First Coronavirus Response Act.
ARE YOU PREPARED?
As reports of the Coronavirus continue to dominate the news and with confirmed cases growing in Massachusetts, people should be continually updated of the facts regarding the virus and how you can keep yourself, your family, and your workers safe.
Click here to access links to OSHA and CDC guidelines,  NFPA 241 Compliance information, a Shutdown Checklist, Toolbox Talk and the AGC of America Resource Page.
COVID-19 BUSINESS GUIDANCE
Click here for information and guidance for small businesses including the Small Business Owners Guide to the Cares Act and links to SBA COVID-19 ECONOMIC INJURY DISASTER LOAN APPLICATION and more as it comes available.
ADDITIONAL RESOURCES
Click here to access information from AGC MA Industry Experts on topics that include:

COVID-19 Financial Relief Evaluation and Selection Tool

What you Need to Know about Force Majeure in Light of the Coronavirus
Commonly Asked Employer Questions Regarding Employees During the COVID-19 Pandemic
Coronavirus Continues to Spread: What Employers Should Be Doing

What You Need to Know: Clarification of the Mass.Gov Essential Services Order
COVID-19 Self Isolation Guide: Harvard Health Services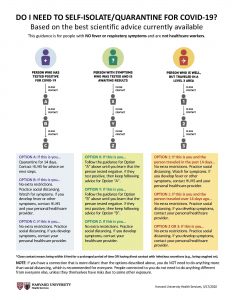 Message from AGC MA CEO, Bob Petrucelli
AGC MA is committed in providing our members the support they need in navigating these unprecedented times.