In response to the growing concerns associated with COVID-19, AGC MA has created this resource page providing members updated information as circumstances warrant.
At this time, one of our primary goals as your association is to support our members in maintaining a safe and healthy workforce.
Operationally, you may expect full and complete business continuity, delivered virtually. Many of you may already be implementing similar procedures, and AGC MA has made a point to provide all employees with the appropriate tools and technologies to continue "business as usual." All expectations of your AGC MA staff will be met without exception.
LATEST NEWS 
Click here to access the latest state and city announcements including Governor Bakers list of essential services that are exempt from closure and the latest information on the DOL Paid Leave Guidance on Families First Coronavirus Response Act.
ARE YOU PREPARED?
As reports of the Coronavirus continue to dominate the news and with confirmed cases growing in Massachusetts, people should be continually updated of the facts regarding the virus and how you can keep yourself, your family, and your workers safe.
Click here to access links to OSHA and CDC guidelines,  NFPA 241 Compliance information, a Shutdown Checklist, Toolbox Talk and the AGC of America Resource Page.
COVID-19 BUSINESS GUIDANCE
Click here for information and guidance for small businesses including the Small Business Owners Guide to the Cares Act and links to SBA COVID-19 ECONOMIC INJURY DISASTER LOAN APPLICATION and more as it comes available.
ADDITIONAL RESOURCES
Click here to access information from industry experts on topics that include:
COVID-19 Self Isolation Guide: Harvard Health Services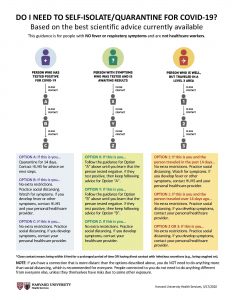 Message from AGC MA CEO, Bob Petrucelli
AGC MA is committed in providing our members the support they need in navigating these unprecedented times.