AGC MA COVID-19 Safety Response
The AGC MA COVID-19 Safety Response is a guideline providing best practices based on the current information available but are subject to change as more information is received from the CDC and OSHA. Be sure to keep checking back for the most recent information!
CLICK HERE TO ACCESS THE GUIDELINE>>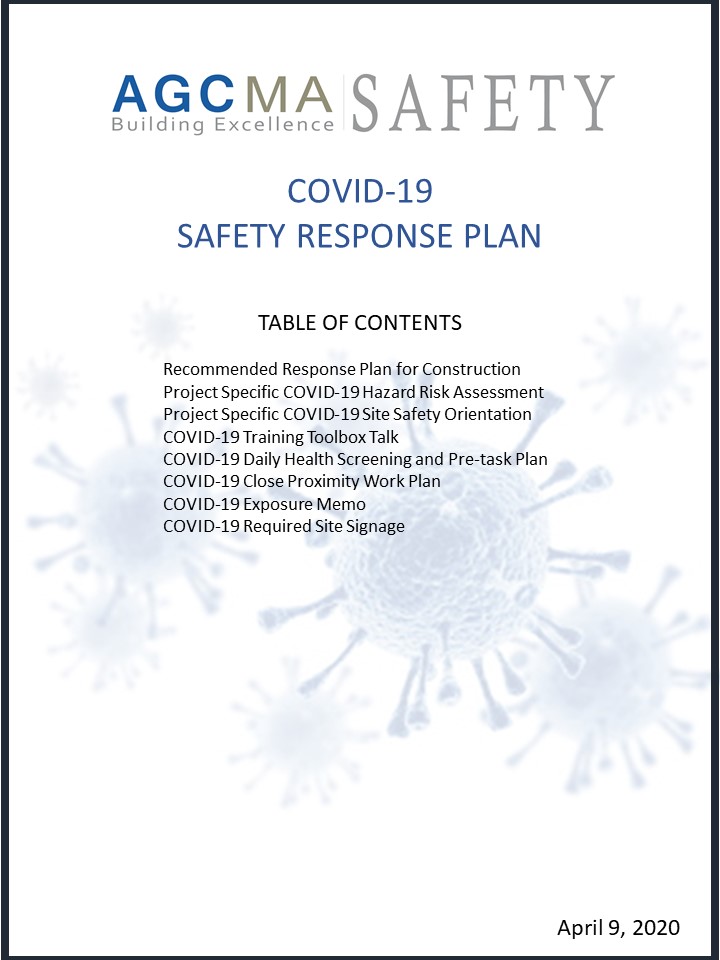 ADDITIONAL RESOURCES
On July 24, 2020, the state issued new Sector Specific Workplace Safety Standards for Construction Sites to Address COVID-19. The change from the earlier version of the standards issued on May 18, 2020 is the inclusion of Governor Bakers's current out-of-state travel order, found in the General On-the-job Guidance section of the document.
General Requirements for COVID 19 Guidance on Projects:
To establish industry wide protocols to support construction projects within the Commonwealth of Massachusetts
during the COVID 19 pandemic. This document is provided as a guide of the elements to be considered, with each
project preparing, implementing and adjusting as necessary a project specific plan taking into consideration the
unique elements of that project.
These Guidelines and Procedures MUST be implemented at all times on all construction sites. All construction sites MUST conduct a Safety Stand Down day to disseminate these Guidelines to all employees and workers.
Reopening: MANDATORY SAFETY STANDARDS FOR WORKPLACES
These new standards will apply universally to all workplaces that are open in Phase 1, and are designed to reduce the risk of COVID-19 transmission to employees and customers.
Tufts Medical Center COVID-19 Testing for Construction Workers
Tufts Medical Center has partnered with the City of Boston and Boston Public Schools to open a COVID-19 screening site at the Josiah Quincy School, 885 Washington Street, Boston. The screening site is available to patients of Tufts Medical Center, health care workers, first responders, essential city personnel and residents of the greater Chinatown community who are concerned they may have COVID-19, regardless of symptoms.
Non-Healthcare Workers: Occupational Exposure & Return to Work Guidance, Revised May 7, 2020